Just minutes after Leonardis was selected from the Northern Knights, a screen-shot emerged showing the Swans' newest recruit had 'liked' two anti-Adam Goodes pages on Facebook in February.

The pages were titled "Adam Goodes for flog of the year" and "Adam Goode's [sic] for wanker of the year".

Leonardis has since apologised to the Swans for the gaffe – and is likely to apologise to Goodes himself, given the revered status the two-time Brownlow Medallist holds at the club.

Goodes of course retired from the game at the end of the 2015 season, after being booed at the majority of Swans' away games throughout the year.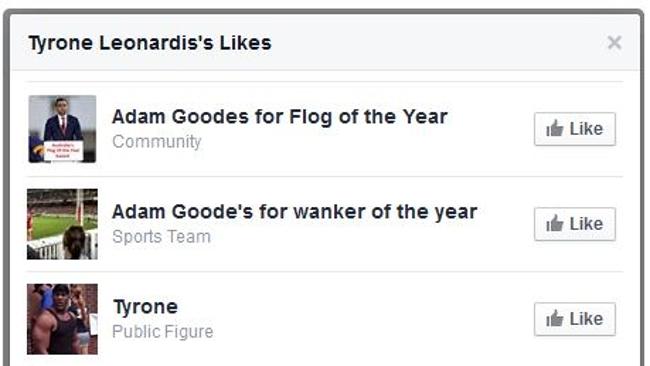 "We have spoken to Ty and he is really disappointed," Sydney's General Manger of Football, Tom Harley told News Corp.
"They were groups he joined in February and he is really apologetic.

"It is a really good reminder to the pitfalls of social media. It is not ideal, but he is unbelievably apologetic.
"He is feeling really bad, and it is a conversation we will pick up with him when he arrives (at the club)."

Leonardis himself spoke with the club's official website on Wednesday afternoon. 

"I'm extremely sorry for my actions and it is something that I have already learnt a great deal from," Leonardis said.